The Purpose

To motivate children to discover the joys of reading and learning through the magic of contact with live horses.

The Goal

To spark the imagination of children so they will want to read and enjoy their own sense of creativity as they escape into a world of adventure.
The 'kids' are motivated to want to read!

Horses make great listeners as part of literacy program
CBC News Posted: Oct 31, 2014 6:10 PM MT
A very shy boy spent time petting a very patient horse on Friday, and even read a book to his new friend. For more click here or for pdf.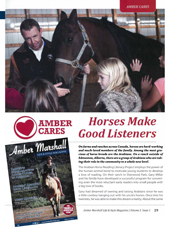 AMBER CARES Horses Make Good Listeners
Amber Marshall Life & Style Magazine | Volume 3 Issue 1
On farms and ranches across Canada, horses are hard-working
and much-loved members of the family. Among the most gracious
of horse breeds are the Arabians. On a ranch outside of
Edmonton, Alberta, there are a group of Arabians who are taking
their role in the community to a whole new level.
The Arabian Horse Reading Literacy Project employs the power of
the human-animal bond to motivate young students to develop
a love of reading. On their ranch in Sherwood Park, Gary Millar
and his family have developed a successful program for converting
even the most reluctant early readers into small people with
a big love of books. For the complete article click here.
Perfect timing ...

The schools are doing a good job of teaching 'kids' to read. Reading skills are like muscles ... use it or lose it! The Arabian Horse Reading Literacy Project motivates 'kids' to want to read and enjoy reading.

Grades one through five are critical years for reading development. It is important to learn the reading basics in the early years. Those who do not, are likely to fall behind in all subject areas. If 'kids' go through the fourth grade and learn to enjoy reading, statistics indicate this increases their chances of graduating from high school and enjoying a reasonable quality of life.

The Arabian Horse Reading Literacy Project is perfectly timed to connect with students who are actively engaged in learning to read and practicing their reading skills. The students are impressionable and this exhilarating experience of working with and reading to the horses provides them with the opportunity to make reading a high priority in their lives.
"Horses are outstanding teachers! The horses motivate kids to want to read." ~ Gary Millar